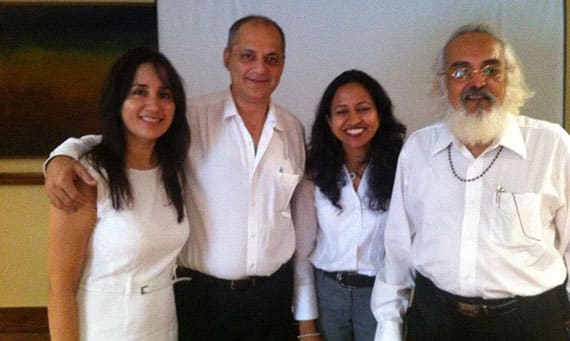 Anatta was established in 2004
---
We have a team of dynamic experts at Anatta Humanversity, which consists of Mr. Mahesh Hiranandani (Managing Director), Dr. Sujatha Nair (Director), Dr. Rajiv N. Jerajani (Psychiatrist) and Vandana Hiranandani (Administrative Director & Family Therapist). Our team will help you get beyond addiction in the best way possible for you.
---
I would like to share with you about Anatta Humanversity Pvt.Ltd., a voluntary , exclusive, luxurious alternate life treatment facility for those afflicted and affected by Addiction to Alcohol and Drugs.

Anatta is today probably the only drug/alcohol rehab in the country catering to the elite and affluent class of people afflicted and affected by this ailment that is completely voluntary, which as a priority maintains the anonymity and confidentiality of its clientele and tailor makes the treatment process as per the individual making it client specific. The ambience provided is luxurious and exclusive.
We at Anatta Humanversity, one of the best luxury rehab in India, uses a holistic approach to help you find the healing you need and deserve from alcohol & drug addiction.
A Brief about our treatment process
(i)   We provide the client an informal, safe, loving ambience, in freedom, conducive to effective recovery. For, true healing we have found happens only in freedom. The setting is luxurious with all comforts as our clients are used to in their life.
(ii)   We provide an intimate and therapeutic setting where women who are afflicted by addiction to substances  too can regain their dignity, independence and find fellowship within and around them. Women thus experience living a life away from substance in a conducive and loving environment. It is a most beautiful experience to see a woman learn from her own experiences, realize her own inner potential and individuality to blossom into the human being she is meant to be without finding the need to go back to the Substance.
(iii)   We are probably the only facility in the country which also provides an extensive treatment plan for Co-dependents . Co-dependent treatment involves parallel OPD Counselling for the co-dependents facilitated by Ms. Vandana. A stay for few days during the stay of the dependent with us as an intervention and a specialised tailor made residential stay with us after the dependent has completed his/her program is also part of the program for co-dependents.
(iv)   The program is essentially voluntary with absolutely no use of Psychiatric medications unless there is an underlying disorder that surfaces during or after detoxification.
(v)   The treatment starts with Detoxification.. During detoxification, the substance is stopped and medication is only given at this time to ensure smooth tiding over of the withdrawals. During this time a Homoeopathic case history is taken of the Client by Dr.Nair. Biochemical investigations are also done to evaluate the physical status of the client. Psychometric evaluation of the client is done along with a Psychiatric evaluation by Dr.Jerajani.
(vi)   The duration of the treatment program which is usually 6 to 8 weeks is decided upon during the detoxification phase.
(vii)   Our treatment involves Counselling, Meditation techniques, writing in a prescribed format, Yoga, Regression therapies, other alternate healing therapies, Homoeopathic medications to aid faster recovery, appropriate diet and nutritional supplementation etc. Meditations enable catharsis of emotions to take place in a guided manner making way for an experience of a meditative state. Counseling continues and completes the process of turning in and transforming attitudes.
Anatta Humanversity thus acts as a catalyst in paving the way towards a Life beyond Addiction.
Alternate Life Therapies

Alternate Life Therapies

Our clientele comprises of the elite class, actors, politicians, businessmen etc as they do not have a facility that can provide them the Ambience, Confidentiality and Anonymity we provide. We also are a guide to many through our helpline number.

PROJECT BY : Alternate Life

Counseling and Meditation

Counseling and Meditation

Counseling is exclusive one on one done by Mahesh, Vandana and Dr. Sujatha . The trio are qualified and trained counsellors with over 10 years of experience in the field of treatment of those affected and afflicted by Addiction. A process of counselling

PROJECT BY : Meditation

Drug addiction

Drug addiction

is a state of periodic or chronic intoxication produced by the repeated consumption of a drug (natural or synthetic). Its characteristics include: (i) an overpowering desire or need (compulsion) to continue taking the drug and to obtain it by any means;

PROJECT BY : Drug addiction

The Early Phase

The Early Phase

Increased Tolerance: This is the first warning sign of the development of alcoholism/addiction. The same Pleasurable feeling obtained earlier with one or two drinks /uses is not reached with the same quantity of usage .More of the substance is needed

PROJECT BY : Early Phase

The Middle Phase

The Middle Phase

Loss of Control: Initially, there is a loss of control over the amount of alcohol/drug consumed. Later on, one starts drinking beyond the necessary consumption and gets drunk at inappropriate places like at parties, weddings etc. thus losing control

PROJECT BY : Middle Phase

The Chronic Phase

The Chronic Phase

This phase is characterized by noticeable physical, mental and social deterioration. There is a total breakdown in relationship with the family. The person drinks/uses continuously for days together, does not eat and does not involve oneself in any other

PROJECT BY : Chronic Phase

Levels of Denial

Levels of Denial

Lack of Information: denial lack accurate information or have internalized wrong information about addiction and its related problems. Conscious Defensiveness: Knowledge that something is wrong but refusal to face the pain of knowing. Whenever they start

PROJECT BY : Levels of Denial

Addictive Chemicals

Addictive Chemicals

Mood-altering drugs are chemicals agents that produce change in brain function by altering the chemistry of the brain. Once the brain function is altered a person experiences Physical, Psychological and Behavioral changes as a direct result, of the chemicals.

PROJECT BY : Addictive Chemicals